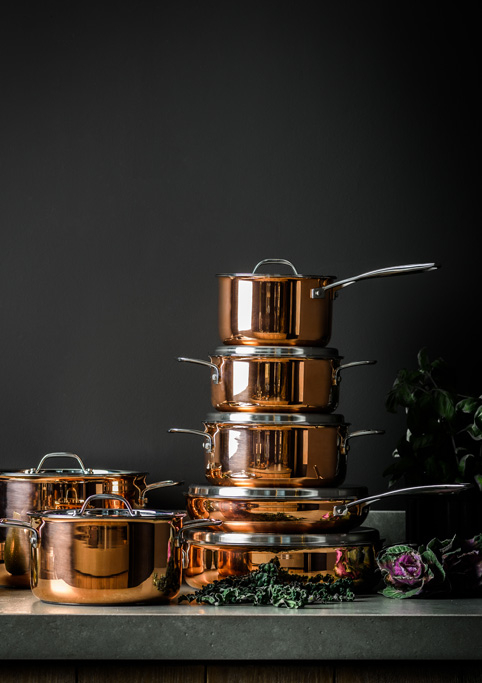 Frequently Asked Questions
On this page, you will find answers to the most frequently asked questions. Do you still have a question for us? Don't hesitate to call us on +31 85 130 45 23 or e-mail us via info@ducq.com.
Because the exterior layer of the DUCQ pots and pans is made from copper and the bottom is made from induction steel, it makes the pots and pans suitable for induction. The composition of the pots and pans also ensures that the bottom stays flat when heated and doesn't deform. This makes these pots and pans eminently suitable for induction, but also for ceramic, electric and gas cooking and cooking.

DUCQ pots and pans have been specially designed for use on induction, but DUCQ pots and pans are suitable for any heat source; gas, induction, ceramic and electric. However, the bottoms may somewhat buckle during long term use on gas, and in particular at high temperatures which means that from that moment on the pots and pans will conduct less on other heat sources.

Copper pots and pans spread heat faster than for example a pot or pan entirely made from steel. Your food will be prepared faster and will taste better because of the faster heat dissipation. The 3-layer copper pots and pans give as it were a sort of 'oven effect'. This saves energy as well.

Certainly. All DUCQ pots and pans can. Particularly the large casserole is ideal for preparing large pieces of meat or fish.

The DUCQ pots and pans handles do not get hot as long as you place them in the middle of the – right-sized – heat source. The handle is hollow and because there are only 2 small contact points with the pot or pan it barely gets hot. When you are cooking you can therefore just grab them without using oven gloves or tea towels.

Yes, but it is better to wash the pots and pans by hand. If you are not put on earth for this then it's okay to put them in the dishwasher. It's wise to immediately dry the pots and pans with a soft cloth after the washing programme has finished. This way you prevent streaks and precipitation of water drops. Bear in mind that the pots and pans may become dull a bit faster during regular use in the dishwasher. But luckily the shine will appear again if you polish them with brass powder.

Yes, we have. You can find them here: https://www.ducq.com/ducq-frying-pan-1-handle-24-cm-with-non-stick-coating.html

The best way of keeping the copper pots and pans scratch-free is by using silicon spatulas. You can use knives and forks, but metal on metal will always scratch. This does not, however, influence the use of the pots and pans.

Want to enjoy your pots and pans for years to come? Wash them with hot water and a small amount of detergent right after you're done cooking. Dry them with a soft cloth to prevent streaks. This way your pots and pans will stay nice and shiny. Copper discolours and erodes slightly over time. Maybe you like it, maybe you don't. If you don't a can of brass powder works wonders.

No, absolutely not. All pots and pans have a stainless steel inner layer. This layer is fully sealed around the edges and is even folded over for extra protection. This prevents food from coming into direct contact with aluminium or copper, which results in a carefree enjoyment of the advantages: an optimum heat conduction of the food, preservation of taste and therefore the best and healthiest meals.

DUCQ warrants that all products are free from material and manufacturing defaults. If, during normal usage and maintenance, material or manufacturing default comes to light (to be determined by DUCQ alone), DUCQ will replace the pot or pan free of charge. Our non-stick coating has been engineered to resist chipping, peeling, and flaking at will last many years. By normal use the non-stick layer will last many years after the warranty period of 2 years has expired.

Most instances when the non-stick coating has lost its' non-stick properties, it is due to overheating of the pan. Cookware with non-stick coatings should be used on low to medium heat settings. For use on high heat DUCQ has developed a frying pan without non-stick coating (link). Due to the superior quality of the 3-ply material the cookware will heat up quicker and retain the heat. One indication that your pan has been overheated is that your non-stick has turned a brown or rusty color.

Overheating of the non-stick coating will cause the non-stick properties to break down. As a result you will find that foods are sticking to the cookware. Overheating voids the warranty.

If there are digs, nicks or scratches to the non-stick coating from the use of metal utensils or sharp knives, this will affect the performance of the non-stick and will void the warranty.

If you feel that the problem you are encountering is not a result of any of the above use and care issues, we will be happy to provide a warranty evaluation for replacement.